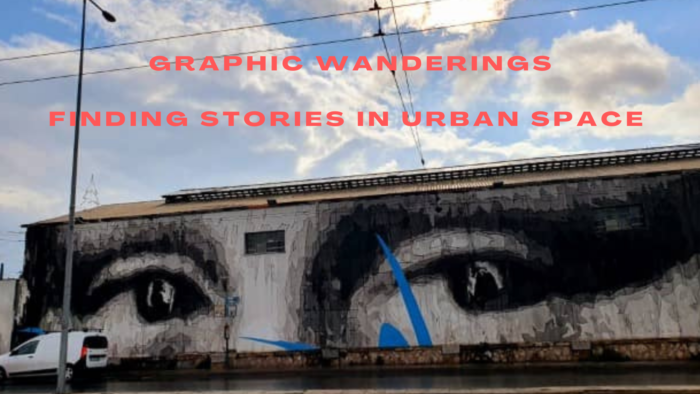 GRAPHIC WANDERINGS: FINDING STORIES IN URBAN SPACE 
DESCRIPTION
Learn to explore your sense of place from near and far through walking and discover your particular perspective on the city's (hi)stories and identity through drawing. Use your sketchbook to find interesting urban elements that don't appear on a map turning each urban space unique! We will be walking through the city experimenting with the language of comics and illustrated maps to create a visual narrative that reflects our walking practice focusing on expression, storytelling and reportage. The results tell personal stories of the walk and show each participant's subjective perspective on the city of Athens.
Athens Comics Library in collaboration with the Netherlands Institute at Athens and Comicdom Con Athens is inviting you to this very unique "walkshop" that aims to develop creative approaches to urban space. Gain the confidence to explore and draw on the streets, create your story and share your artwork with others.
TIME SCHEDULE:
April 16 Saturday, 11:00 – 13:30
MEETING PLACE:
The garden of Netherlands Institute at Athens (Makri 11)
PARTICIPANTS:
Open to anyone interested in architecture, landscape and drawing the city. Please note that it is an illustrative rather than a scientific cartography workshop. Nonetheless, drawing proficiency is not required. Dress comfortably and do not be afraid to be messy and experiment!
Up to a maximum of 20 participants, over 18 years old.
Registrations: To register please email: contact@athenscomicslibrary.gr
Free of charge
Language: English
For further inquiries please contact the Athens Comics Library at:
contact@athenscomicslibrary.gr or 6983050292 and the Netherlands Institute at Athens (N. Karachalis) karachalis@nia.gr
Tutor: Tânia A. Cardoso

Tânia A. Cardoso is an illustrator, urbanist, and PhD candidate in artistic research at the University of Amsterdam investigating the potential of illustration as a form of urban communication. Her artistic practice as research is based on the ground-based experience of the illustrator and explores the poetics of everyday life connecting urban experience, place and imagination. Her illustration work has integrated several international collective exhibitions; was awarded the "Worldwide Picture Book Illustration Competition" 2015 in the Netherlands, the "Gorsedh Kernow Creativity Award" 2017 in Cornwall, UK and was a finalist for the "Women Cartoonists International Award" 2019 in Normandy, France.